Ride The Slide On Lani Kai II!
Snorkeling Trips
Maui Snorkeling tours to Molokini. All ages and abilities. Food & Drinks Included.
Private Charters
Book a Private Boat Charter on the Lani Kai II. All-inclusive for up to 67 guests.
Snorkel Trips to Molokini Crater and Turtle Town.
Maui Snorkeling Tours
Since 1985, Maui Snorkeling has run thousands of Maui Molokini Snorkel Tours, hundreds of Private Boat Charters, watched tens of thousands of Humpback whales during their annual migrations and has provided the opportunity for people to swim with the most peaceful and beautiful Sea Turtles that Maui has to offer. It's an honor to be considered one of the best snorkeling boats in Maui and we spend each and every day maintaining that reputation. We certainly understand and appreciate the responsibility that goes along with carrying the Maui Snorkeling name!
Our boats, Lani Kai I (retired) and Lani Kai II, have carried close to 1 million passengers and have served families, honeymooners, senior citizens, young children, military personnel, and vacationers from every country on the globe. Lani Kai was retired in March 2020 and we welcomed Lani Kai II in August 2020. Lani Kai II is a 53-foot vessel that can accommodate up to 67 passengers. Our whale watching, snorkeling, and turtle tours leave out of Ma'alaea Harbor and travel to Molokini Crater and Turtle Town.
Since her launch in August 2020, Lani Kai II has hosted major Hollywood productions, professional athletes and celebrities, and thousands of Maui visitors. We are committed to protecting our marine life and celebrating the beauty of Hawai'i!
Whether you are two honeymooners looking for a breathtaking snorkeling experience, a couple celebrating 25 years of marriage, or a young family hoping for an unforgettable experience, Maui Snorkeling is one of the top things to do in Maui and Molokini. We are happy to provide the best all-inclusive packages in Maui that includes a morning snorkeling tour, afternoon snorkeling tour, and group & private charters.
Maui Snorkeling is proud to offer BYOB service to our guests. We listened to our customers and realized that everyone has their own specific requests for alcohol. The only limitations are no glass and no drinking until you are done snorkeling, swimming, and sliding!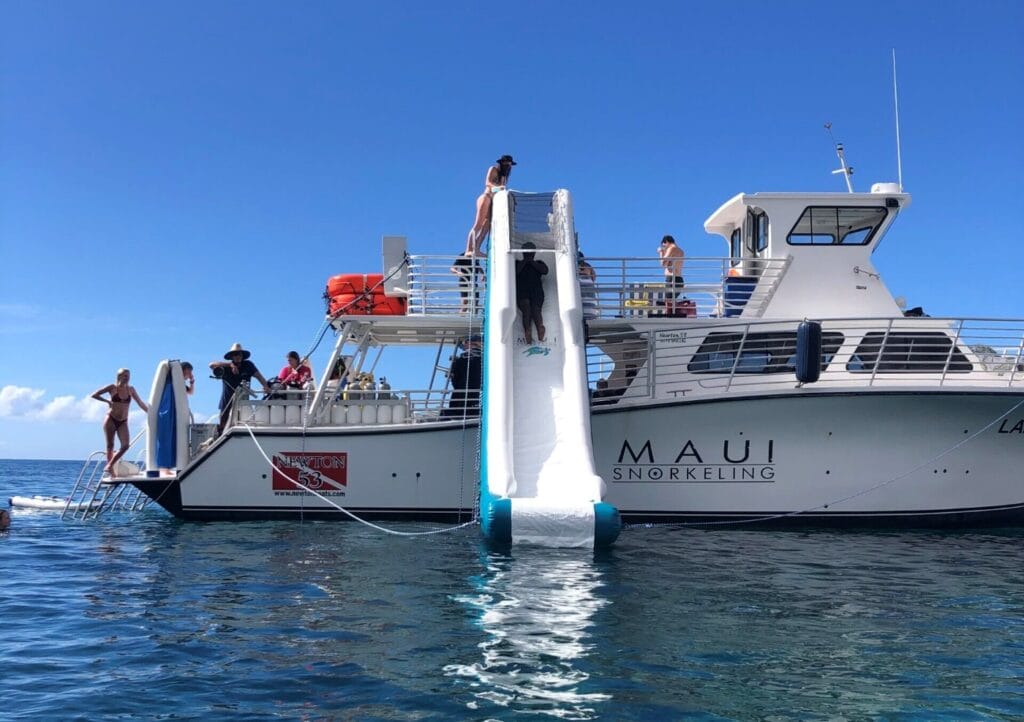 Enjoy a breathtaking Maui snorkeling experience with outrageously personal attention from our experienced and dedicated crew!
A 53-foot, double-decked boat that carries up to 67 passengers. Large enough to handle the seas, but small enough to avoid the "sea of humanity"!
Snorkeling, Whale Watching, Turtles
9

Veteran Captain & Crew

9

7 Days A Week

9

5 Hour Morning or 3 Hour Afternoon Tours

9

Snorkeling, Whale Watching, Turtles

9

Molokini Crater | Turtle Town

9

Food and Drinks Included

9

All Necessary Equipment Included

9

Kids Under 4 Are Free
Subscribe to our Newsletter and Take Home Our Swag!