We at Maui Snorkeling have been inundated with media inquiries regarding an inaccurate Instagram post that occurred after our August 11th charity tour benefiting Maui Food Bank. We've been busy with relief efforts and have tried not to get sidetracked correcting the false narrative, but wanted to give a quick note on what we have done to date.
Last Wednesday and Thursday (Aug 9th and 10th), we used our employees to load catamarans, which are designed to allow them to unload on the beach. On Thursday afternoon, we prepared to deliver a load with our boat and we were told to stand down due to the opening of the road to more efficient supply trucks. We had canceled our public tours up to that point but decided that we could best help by raising money on a fundraising trip, where we'd donate 100% of our net profits to relief efforts. Net profits in this case means we'd donate 100% of the revenues we received while incurring all of the expenses related to the trip.
On Friday morning, Maui Snorkeling ran a half-day trip and later that evening donated $10,000 to Maui Food Bank for Lahaina fire relief. As stated on their website https://mauifoodbank.org/donate/, each dollar of donations supplies 4 meals, which means that 40,000 meals were provided from that trip.
During the trip, we got online feedback that this was inappropriate. After we were instructed our vessel was needed, we adjusted and were able to link up with a catamaran, Sea Maui III. We are now able to hook onto their vessel and unload supplies onto their catamaran, which is able to make a beach landing in Kaanapali.
On Saturday, we hauled 10 truckloads of bedding clothes shelters, baby and pet supplies. These were offloaded to the catamaran and then offloaded to jet skis which made beach runs.
On Monday, we delivered 300 cases of water, 200 gallons of gas and diesel, and about 50 propane tanks to Lahaina, as well as tents, camping supplies, clothing, bedding, pet supplies, baby supplies, feminine hygiene products, bleach, and soap.
I'd like to personally thank all of our amazing employees, who've endured online scrutiny for my personal decision to run this fundraising trip. Additionally, they used their time to show up and help in any way we asked, which is commendable. We are SO thankful for their efforts and will continue to pay them as they volunteer their time.
We'd like to thank the news organizations who've interviewed myself as well as Captain Spence and given us a chance to respond.
Mahalo,
Mark Elmore
President of Maui Snorkeling
Update on Relief Efforts 8/16/2023
We're receiving requests for proof of good intentions. We attached two:
1) An activity cancellation email to afternoon customers booked on Thursday 8/10. We informed canceled customers of our intent to donate 100% of our net profits to disaster relief efforts (before the controversy).
2) A donation receipt to Maui Food Bank for $10,265 on Friday 8/11.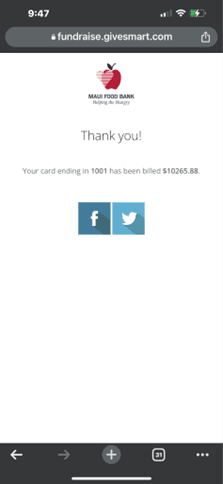 We deleted our social media charity tour announcement in light of the threats we received. You may be tempted to verify our donation with Maui Food Bank. Rather than distract another relief effort, I humbly ask you to accept this proof of our good intentions and move forward. We once again apologize for having the tour on August 11, 2023. It was too soon to have this event in the aftermath. We heard you, and immediately shifted our efforts into other ways we could help.
Mahalo,
Mark Elmore
President of Maui Snorkeling