Best Snorkeling in Maui
Maui, the Hawaiian paradise renowned for its crystal-clear waters and abundant marine life, offers some of the best snorkeling experiences in the world. Among the various options available, the Maui Snorkeling Afternoon Tour stands out as the ultimate choice for those seeking a less crowded, all-inclusive adventure.
Get ready to dive into the breathtaking Molokini Crater, surrounded by a wealth of marine wonders, on this unforgettable Slide and Snorkel Tour. Let's explore why this tour is the epitome of "Best Snorkeling in Maui."
Lani Kai II and its Amazing Waterslide
Step aboard the Lani Kai II, a magnificent 53-foot vessel that sets the bar high for Maui's ocean adventures. With a spacious capacity of up to 67 passengers, this boat promises a comfortable and enjoyable journey for all. Departing from the scenic Ma'alaea Harbor, the Lani Kai II, with an amazing 25-foot water slide will take you on a 3-Hour Maui Snorkel Tour where you can enjoy snorkeling with various fish and sea turtles.
Whether you prefer the shelter of the large, shaded cabin or the outdoor seating area, there's ample room for everyone to bask in the sights and sounds of the ocean. The boat's easy water entry and exit, along with wide swim steps and a freshwater shower, ensure a seamless and refreshing aquatic adventure helping you experience the best snorkeling in Maui.
Additionally, the Lani Kai II boasts the convenience of two well-maintained heads (toilets), further adding to the comfort of all passengers. While cruising, you can also bask in the sun from the sunning deck on the bow, taking in the stunning surroundings. But the excitement doesn't end there – brace yourself for an exhilarating experience as you slide down the amazing 25-foot water slide into the pristine waters.
To top it all off, the Lani Kai II is manned by an exceptional crew, ensuring a safe, informative, and fun-filled journey that you won't find anywhere else on the island of Maui.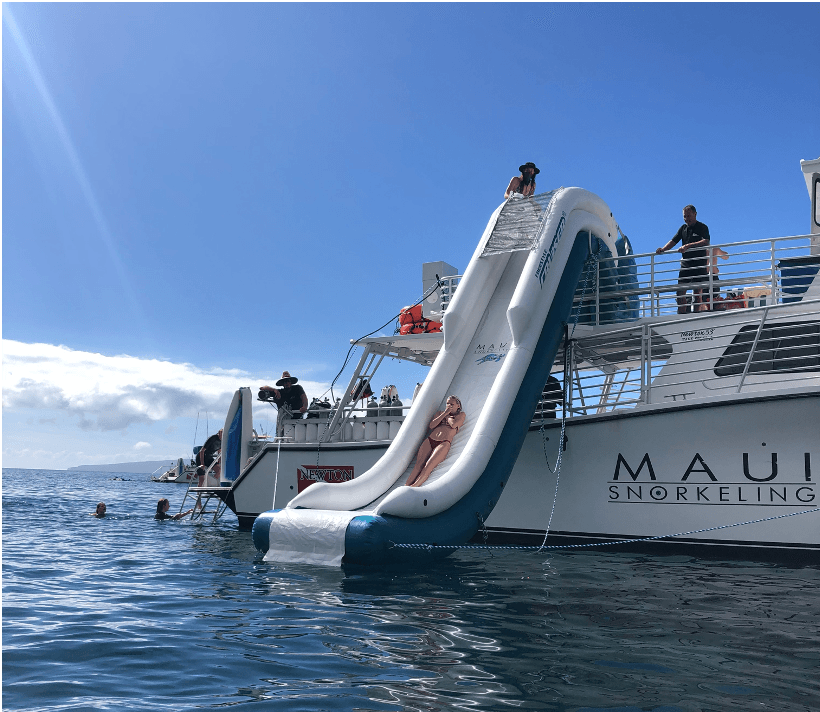 Discover Molokini Crater
Molokini Crater is a small, crescent-shaped island that is a renowned spot for snorkeling and scuba diving. The Molokini Crater's unique crescent shape provides a sheltered bay, protecting the diverse marine life from strong currents and waves. As a result, it boasts some of the clearest water in Hawaii, with visibility often exceeding 150 feet. This makes it an ideal location for observing the stunning underwater world that thrives beneath its surface.
The crater is one of the reasons for the best snorkeling in Maui and is the highlight of this Maui Snorkeling Tour. With this tour, you'll snorkel at the Crater where the underwater environment is home to around 250 species of fish, many endemic to Hawaii. Alongside this, you can find a variety of invertebrates, coral species, and occasionally, larger marine animals such as manta rays, and monk seals.
The afternoon tour to Molokini Crater offers an advantage over morning tours, as the sunlight casts a magical glow on the coral reefs, enhancing the visual splendor. You'll be immersed in a world of colorful fish such as butterflyfish, angelfish, parrotfish, and triggerfish. Plus, the world-famous Hawaiian green sea turtles make appearances regularly, along with eels, crabs, and even octopuses.
All-Inclusive Package
The 3-Hour Slide and Snorkel Afternoon Tour is designed to provide a hassle-free experience for everyone. This is considered some of the best snorkeling in Maui and operates Monday – Sunday from 1:00 pm – 4:00 pm. The all-inclusive package covers everything you need for an enjoyable excursion.
From snorkeling equipment to onboard training, boogie boards, and optical masks, we have you covered. Plus, with a deli lunch and an array of beverages, including coffee, tea, juices, and soft drinks, you'll stay refreshed and energized throughout the adventure.
Perfect for Families – A Slide and Snorkel Tour
Families looking for an unforgettable adventure will find the Maui Snorkeling Afternoon Tour ideal. One of the most enticing features is that kids under 4 can join for FREE! This family-friendly policy ensures parents can embark on this journey without worrying about extra costs.
The tour's carefully planned activities, such as riding the amazing 25-foot water slide, add an element of fun and excitement. The laughter and joy that fill the air as kids and adults take turns sliding into the crystal-clear waters create unforgettable moments that will be cherished for years to come!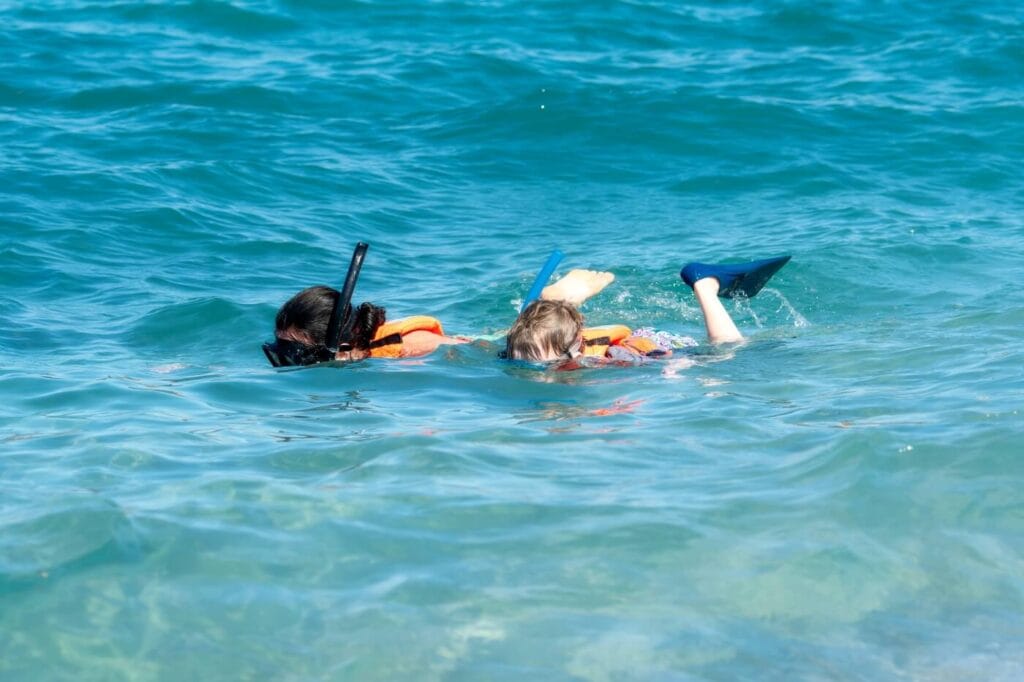 Less Crowded Afternoon Tour
One of the main concerns when choosing a snorkeling tour is overcrowding. Maui Snorkeling addresses this issue by offering the less crowded Afternoon Tour to Molokini Crater. With this tour, you can bid farewell to overcrowded snorkeling spots.
The afternoon timing allows for a more intimate and serene snorkeling experience, as many tourists tend to opt for morning tours. You can explore the wonders of Molokini Crater at your own pace, without feeling rushed or crowded, ensuring an unparalleled adventure!
Book This Maui Snorkel Tour Now!
For those seeking the best snorkeling in Maui, the 3-Hour Afternoon Tour to Molokini Crater is the perfect choice. With its breathtaking underwater scenery, all-inclusive package, and family-friendly policies, this tour offers an unforgettable journey into the marine wonders of Maui.
Say goodbye to crowded mornings and embrace the tranquility of an afternoon snorkeling adventure. Immerse yourself in the vibrant marine life, slide into the pristine waters, and create memories that will last a lifetime.  Book your Maui Snorkeling Afternoon Tour now and prepare to experience the best snorkeling in Maui!